未来学习是一种什么样的学习方式?
是利用先进的科学技术作为学习支架,还是更聚焦人的未来发展......也许每个人都有自己不同的理解。
绿城育华亲亲学校上周也展开了一次关于未来学习方式的探讨。一群IIC融合部的小学生们循例举办一月一次的单元学习成果展,只不过这次,他们是"穿越"到古代。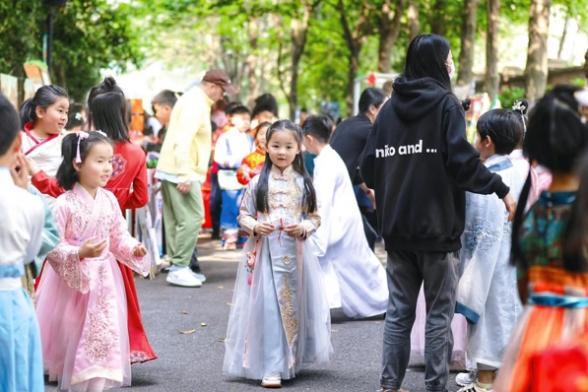 用"水"造桥、冰球不"冰"、水油分离……有趣的"天宫课堂"实验,孩子们兴趣盎然。"天地互动"充满魔力,揭开神奇的时空之境。
Building bridges with "water", playing ice hockey without "ice", separating water and oil... Interesting "Tiangong Classroom" experiments arouse children's interest. "Interaction between space and earth" is full of magic and reveals the magical realm of place and time.
斗转星移,古今相联是时空;异域建筑,因地制宜是时空;薪火相传,文化传承也是时空……时空浩瀚绵延,奥秘无限。
As time flies, place and time connect the past and the present; place and time witness the changes in buildings; From generation to generation, place and time pass cultural heritage on... Place and time are vast and mysterious.
「我们身处什么时空?」,绿城育华亲亲学校IIC的小朋友开启了探索学习,穿越时空之境,追寻时空奥秘。
Where we are in place and time? Qinqiners have begun their inquiry journey. They search for mysteries in place and time.
关键词:人文底蕴(人文积淀、人文情怀、审美情趣)
Key words: humanistic confidence (humanistic accumulation, humanistic feelings, and aesthetic taste)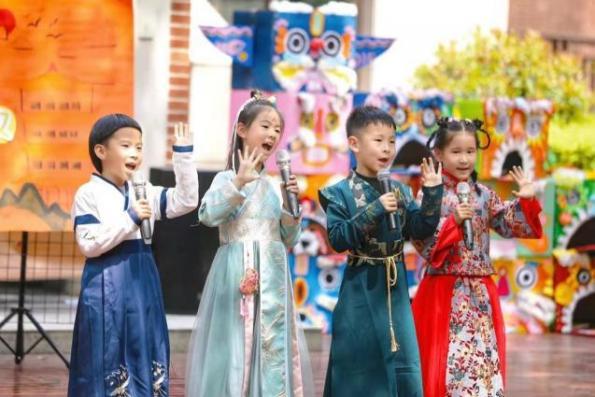 春天斗草踏青,秋日登高赏菊,鞭炮噼里啪啦,龙舟激起水花……传统节日是人们最初敬畏自然的仪式,热烈、悲悯、希望、思念,不同心绪下的祈念是传统文化的体现。
In spring, we go for a walk. In autumn, we climb mountains. The traditional festivals are ceremonies for people to fear and respect nature at first. They convey feelings and wishes under different circumstances. Those can be passion, pity, hope, and love.
孩子们穿上传统服饰,在不同的摊位前游走,在一日之内重温一年的节日文化习俗,观赏龙舟和粽子,怀念爱国的屈原;灯笼下猜谜,是中秋的趣味无限;手作青团,制作茱萸胸针,把实物也变成思念。
Qinqiners put on traditional costumes, walked around different stalls, retasted the festival culture and customs of the year in one day, watched dragon boats and zongzi, and missed the patriotic Qu Yuan. They guessed riddles under lanterns like in the Mid-Autumn Festival. They also made green rice balls and cornel brooches, conveying their respect to ancestors.
穿着传统服装穿越,孩子们也尽情地展示他们的学习成果。或成为小诗人对月吟诵诗歌,或尝试用英文解读传统节日习俗,或古今对比诠释传统节日的变迁……通过这次游园体验,小朋友不仅了解了传统节日的相关知识,也能够学会尊重和理解不同文化背景下不同的习俗,做一个胸襟开阔的学习者。
Wearing traditional clothes, the children also showed their learning results. They became little poets and recited moon poems, tried to interpret traditional festivals and customs with English, or compared the changes of traditional festivals between ancient and modern times... Through this experience, the children not only knew more about the traditional festivals, but also learned to respect and understand different customs in different cultural backgrounds. They have become open-minded learners.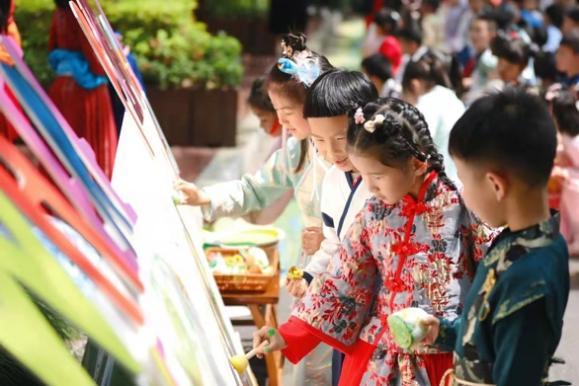 载歌载舞,蹴鞠投壶,中华传统节日的习俗融进我们的日常生活,古今相连,我们也能体验着古代小朋友的快乐。
Singing and dancing, Cuju and Touhu, the customs of Chinese traditional festivals are integrated into our daily life. Ancient and modern are connected. We can also experience the happiness enjoyed by ancient children.
除了传统节日,我们的底蕴还深深地刻进各种地理环境。三年级的孩子们开展了主题式学习"云游中国",研究我国不同地形的面积;跟着"李白去旅行"一起哼唱李白的古诗的路线游览祖国名胜。如诗的古韵,水秀舞,引人入胜,仿佛进入古风古朴的世界。
In addition to traditional festivals, our heritage is deeply engraved into various geographical environments. The grade 3 children carried out thematic learning "Traveling around China" to study the area of different terrain in China; followed the route of "Traveling Li Bai" to chant Li Bai's poems and visit the scenic spots in China. Poetic ancient rhyme and water sleeve dance are fascinating, leading people into the ancient world.
关键词:学会学习(乐学善思、善于反思、信息意识)
Key words: learning to learn (happy to learn, good at thinking, reflective, information consciousness)
深厚的人文积淀也随着时间的发展吐故纳新,了解传统之变,我们用多种方式开展深度学习。
With the development of time, we have profound cultural accumulation. We learn from both the old and the new, and understand the changes of tradition. We carry out in-depth learning in a variety of ways.
借助互联网查找文字、图片或视频资料,追溯节日文化的起源,民居建筑的地理原因,综合运用看、听、思考、联系的技能来全面了解。
We use the Internet to find text, pictures or video materials and to trace the origin of festival culture and the geographical reasons of residential buildings. We comprehensively use the skills of reading, listening, thinking and associating.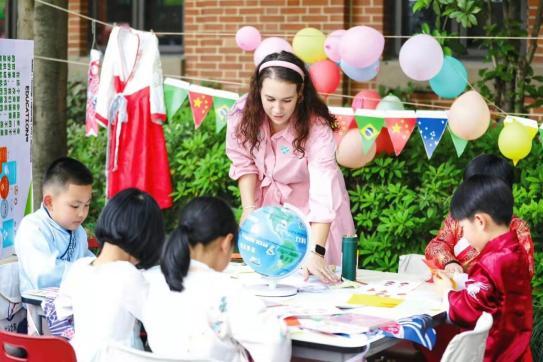 对再现传统节日习俗充满想象力,手绘连环画,不仅记录习俗,而且畅想传统节日习俗在未来的呈现方式。
We are full of imagination in reproducing traditional festivals and customs. We draw comic strips to record customs and to imagine what will the traditional festivals and customs be like in the future.
孩子们纷纷化身地质学家,动手制作地形模型,介绍不同地貌的特点,运用超学科领域的知识积累和技能去探索居民建筑和地形的联系,对世界的好奇心在心中生根发芽。
The children have become geologists and made terrain models, introduced the characteristics of different land forms, and used the interdisciplinary knowledge and skills to explore the connection between residential buildings and terrain. They have become more curious about the world.
跟着达西西之家的"居住小百科"会了解地形对人类活动与定居的影响:黄土高原上适合窑洞:冬暖夏凉;极地冰屋外壳坚硬室内温度能保持0℃以上;土楼一般在丘陵和山地里比较适合;还有吊脚楼…美术课上设计了多样的创意"梦想屋",在未来,可能成真!
Following the "Living Encyclopedia" of Dashi Family, we learned about the impact of terrain on human activities and settlement. Cave dwellings suit the Loess Plateau as they are warm in winter and cool in summer; the polar ice houses have hard shell and the indoor temperature can be kept above 0 ℃; earth buildings are generally suitable for hills and mountains; and stilts... Various creative "Dream Houses" are designed in art classes, which may be built in the future!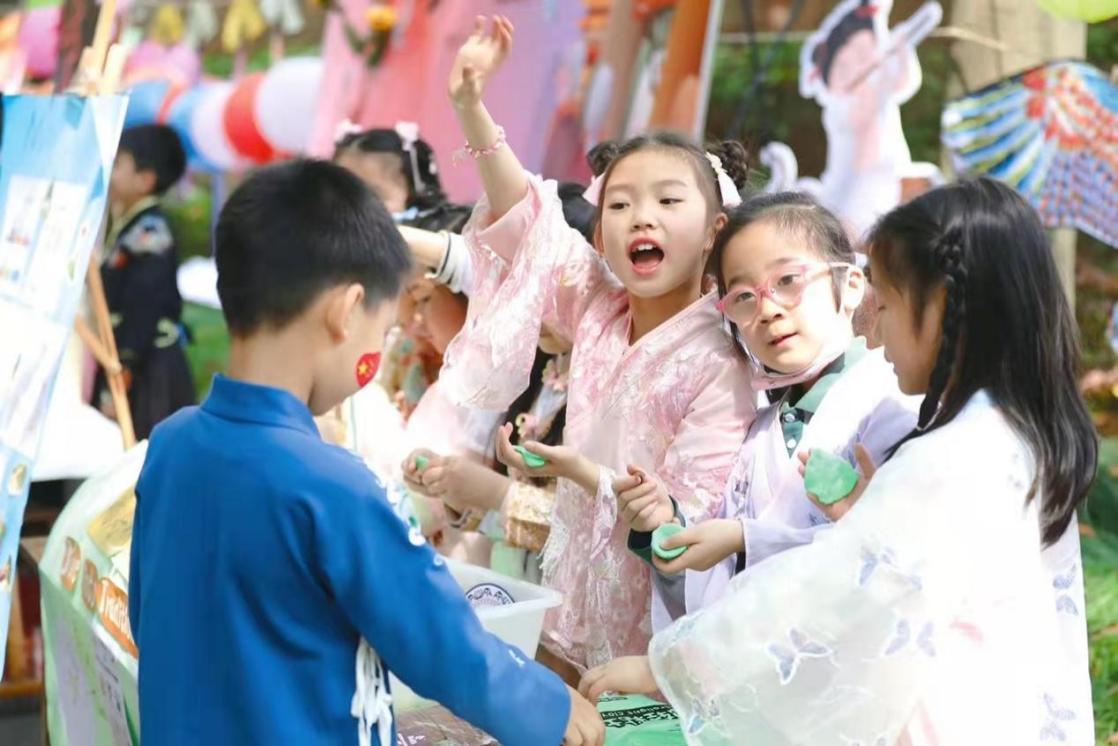 善于反思,对学习过程中得出的结论进行总结,针对不足之处思考改进方式。探索时空是学习的载体,学会学习才能感悟学习的乐趣。信息意识、善于反思,在探索奥秘之时也收获乐学善思的兴趣。
We are reflective. We draw conclusions from the learning process and think about ways to improve for deficiencies. Exploring place and time is the base of learning. By learning to learn, we can feel the fun of learning. With information awareness and reflective ability, we gain interest in learning and thinking when exploring mysteries.
关键词:责任担当(社会责任,国家认同,国际理解)
Key words: responsibility (social responsibility, national identity, international understanding)
孩子们与老师共同制作异域风情的饰物,感受跨文化交流的乐趣,探寻不同国家、民族文化的有趣之处,小朋友们的视野也以此为载体不断延伸、升华。
Children and teachers work together to make exotic ornaments, experience the fun of cross-cultural communication, and explore the interesting aspects of different countries and national cultures. Children's vision has also been broadened.
谁说有趣的探究不会出现在诗情画意里?孩子们跨越千年的时空,与诗仙李白对话。小朋友们同样"手执绿玉杖,朝别黄鹤楼,五岳寻仙不辞远,一生好入名山游。"从成都到重庆,从武汉到九江,诗意串起地形迥别的四处,孩子们在传统文化的诗情画意中感受到山河秀丽,体会祖国美好。
Who says that interesting inquiry will not appear in poems and paintings? The children crossed thousands of years of place and time and talked with the poet Li Bai. The children also "hold a green jade stick in their hand, bid farewell to the Yellow Crane Tower, look for immortals in the five mountains, and travel in famous mountains". From Chengdu to Chongqing, from Wuhan to Jiujiang, the poetic scenery is connected by different terrain. Children can feel the beauty of mountains and rivers of the motherland in the traditional culture.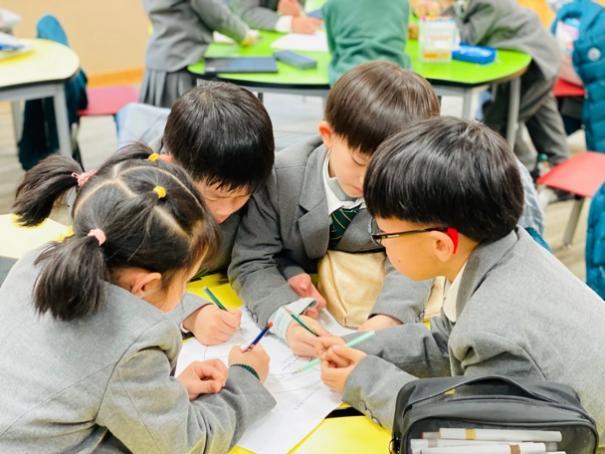 然而,越来越多人旅行对丹霞地貌、极地环境等都造成了严重的破坏,看到这些,我们该做什么?三年级的IIC的小朋友也提出了倡议:提高环保意识:低碳生活,做好垃圾分类等。我们一起Take action!
However, more and more people are traveling, causing serious damage to Danxia landform and polar environment. What should we do then? Grade 3 IIC children also put forward suggestions: improve environmental awareness, lead a low-carbon life, and do well in refuse classification, etc. Let's take action together!
美育是一抹色彩,融在孩子们创造的一笔一画中,融在诗句的一词一句中,融在校园的一角一景中。
Aesthetic education is integrated into the strokes and paintings drawn by children, into the words and sentences of poems, and into every corner and scene on campus.
责任是一枚种子,在孩子们探索时空的过程中,用知识浇灌,在同理心中慢慢发芽。
Responsibility is a seed. In the process of exploring place and time, responsibility grows with the accumulation of knowledge.
"目遇美好,心怀担当,这是时空给予我们的馈赠,也是我们这场时空探寻中获得的最珍贵的奥秘。这场穿越之旅中孩子们身临其境般的沉浸在中外传统文化中,亲身经历未曾经历的,才能更好的共情当下和未来,这也是我们对于「未来学习」的新诠释。"绿城育华亲亲学校校长陆颖表示。