伯兰国驻希腊代表桑迪莉•琼德鲁•希尔女士 - 活动组织者
Birland State Representative IN Greece
H.E. Xanthi Chondrou-Hill - The Organizer of The Event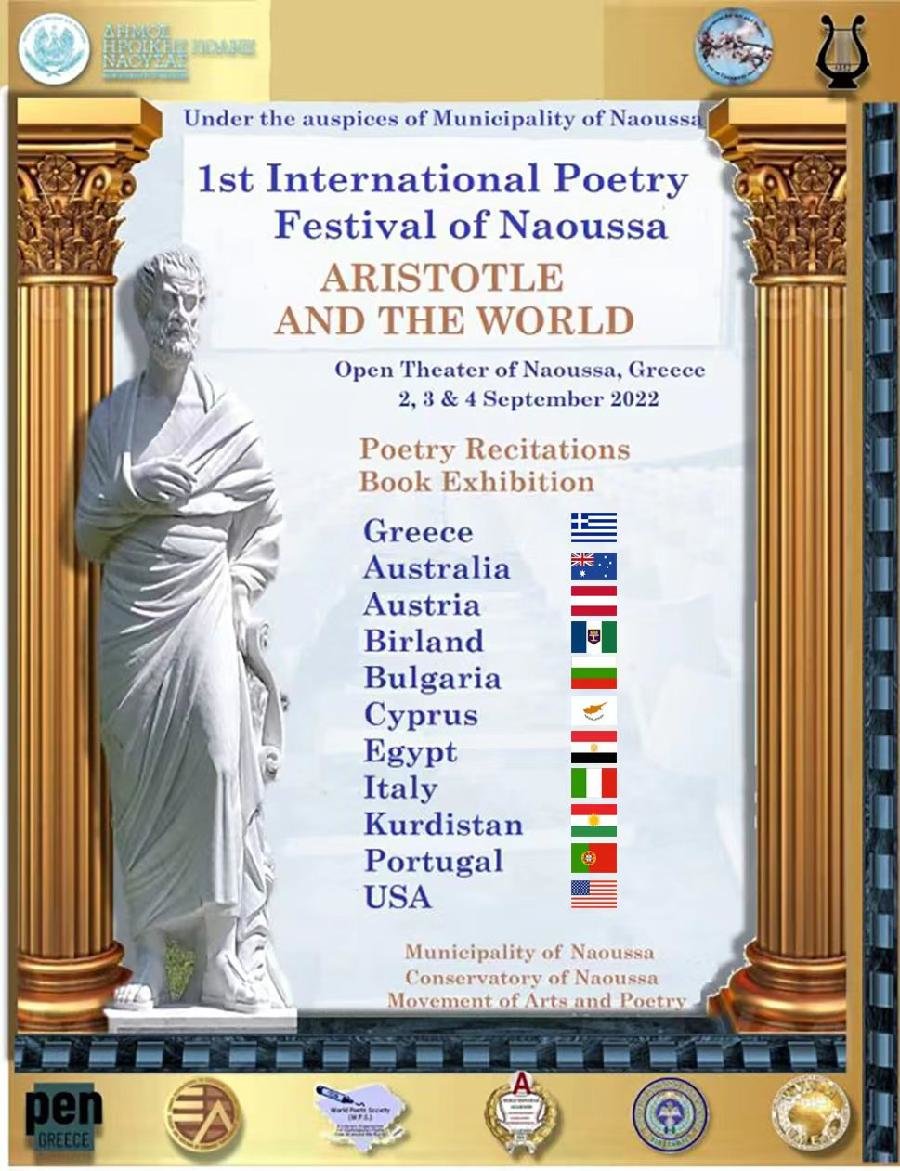 亚里士多德与世界 Aristotle and the World
伯兰国全力支持此活动
BIRLAND State Fully Support This Event
桑迪莉•琼德鲁•希尔女士 H.E. Xanthi Chondrou-Hill
作者:阿什拉夫·阿布尔-亚兹德
亚洲记者协会主席
纳乌萨:由英雄城市纳乌萨市政府主办,"纳乌萨音乐学院协会"联合"艺术与诗歌运动"组织的第一届纳乌萨国际诗歌节将于2022年9月2日举行至9月4日在露天剧场"梅丽娜·墨库里"。
首届国际诗歌节的节目名为"亚里士多德与世界",开幕式上所有参与国的国旗游行穿过该镇,既有文化展示,尤其是诗歌,有朗诵,也有带有音乐装饰的旋律诗歌,以及用于诗歌展示的诗歌和戏剧工作坊,将在活动的最后一天与奖项一起颁发!
节日将伴随着一个翻译研讨会,由参与的诗人和著名翻译的演讲和在纳乌萨城市公园的书籍展览。参观纳乌萨的考古景点包括米耶萨古剧场、宁菲翁、亚里士多德学派、马其顿陵墓和希腊第一个滑雪胜地"3-5皮加迪亚",这也是英雄城市纳乌萨热情好客的一部分。
主办方将专注于以友好和平共处为目标的文化外交!将邀请参赛诗人将来自各国家的大使。除了希腊诗人,来自澳大利亚、奥地利、伯兰、保加利亚、塞浦路斯、埃及、意大利、库尔德斯坦、葡萄牙和美国的诗人也参加了此次活动。
"令人兴奋的是,我们有来自澳大利亚和美国等遥远国家的参与者"该活动的组织者桑迪莉·琼德鲁·希尔女士说。
该节日得到了国际作家和艺术家协会克莱萨特、彭希腊、世界诗人协会和国际学院堯艾丝的支持!国际诗人协会正在他们的电视台播放纳乌萨音乐节的所有活动!
Birland State Representative IN Greece
H.E. Xanthi Chondrou-Hill - The Organizer of The Event
By Ashraf Aboul-Yazid
President, Asia Journalists Association
NAOUSSA: Under the auspices of the Municipality of the Heroic City of Naoussa and organized by the "Association of the Conservatory of Naoussa" together with the "Movement for Arts and Poetry" will be held the 1st International Poetry Festival of Naoussa on September 2- 4, 2022 in the open air theater "Melina Mercouri".
The program of the first international poetry festival entitled features a parade with the flags of all participating countries through the town at the opening event, both the cultural presentation, especially of poetry, with recitations and melodic poetry with musical embellishments, as well as poetry and theater workshops for the presentation of poems, which will be given on the last day of the events, together with the awards!
The festival will be accompanied by a translation workshop with the participating poets and speeches from renouned translators and a book exhibition in Naoussa's city park. Visits to the archaeological sights of Naoussa include the ancient theater of Mieza, Nymphaion, the Aristotle School, the Macedonian Tombs and the first Ski Resort of Greece "3-5 Pigadia", which are also part of the hospitality of the Heroic City of Naoussa.
The organizers will focus on cultural diplomacy aimed towards friendship and peaceful coexistence! The ambassadors of the countries from which the participating poets will come will be invited. In addition to Greek poets, poets from Australia, Austria, Birland, Bulgaria, Cyprus, Egypt, Italy, Kurdistan, Portugal and the United States of America are participating.
"It is exciting that we have participants from countries that are far away such as Australia and the United States of America," says Xanthi Chondrou-Hill, the organizer of the event.
The festival is supported by the international chamber of writers and artists CIESART, PEN Greece, the World Poets Society and the International Academy LIC! The International Chamber of Poets is broadcasting all the activities of the Naoussa Festival on their TV Station!
伯兰国高层全力支持此活动
The High Admin of BIRLAND STATE Fully Support The Event
伯兰总统国王陛下埃米尔•海亚威 博士
伯兰总理女皇陛下伊登•索里亚诺•特立尼达 博士 教授
伯兰副总理兼伯兰文化艺术部长 皇族总长 陳光億 宗师